Options are important. 
Verdure Wellness Clinic offers clients treatment options that support their health and wellness problems. We believe in finding a solution that supports our clients' diagnosis, diet, lifestyle and is safe with their current medications and conditions.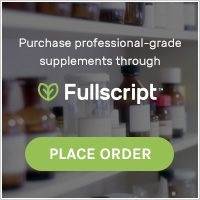 Fullscript is our online dispensary that gives you convenient access to top-quality, professional supplements not typically found in health food stores.
Personalized recommendations are sent from your practitioner via email.
You login, pay, and Fullscript delivers your prescription right to your home.
Verdure Wellness Clinic's dispensary includes:
Professional line supplements
Verdure Wellness supplements
Medicinal herbal tinctures
Medicinal herbal teas
Vitamins, minerals, herbs and other natural health products offer great benefit in treating a health problem naturally. These vitamins, minerals and health products are supplemental to the diet, in order to confer their therapeutic effect. Food is medicine, and can absolutely be a critical tool for health changes, however, often a supplemental form of nutrition will be required for change. At Verdure Wellness Clinic we believe being minimal and strategic with supplements. 
Verdure Wellness Clinic only uses products that have received a Natural Product Number (NPN), and thus has received Health Canada approval. It is not advised to use supplements without an NPN.
Professional Line Supplements
Professional line supplements are vitamin and health products which are only available for purchase through a Naturopathic Doctor, or in locations where a Naturopathic Doctor is on staff. Professional supplements contain high-quality raw materials that are rigorously tested for quality and impurities. Many over-the-counter brands do not make that extra effort.
Additionally, professional brands may use third-party quality-assurance lab testing to verify quality. This is a common practise for professional brands, that again ensure that what you see on the label is what you are actually getting in the bottle.
Verdure Wellness Clinic currently carries products from the following professional lines:
Seroyal

Douglas Labs

Pure Encapsulations

Metagenics

Designs for Health

NFH

AOR

Integrative Therapeutics

MediHerb

JHS

CytoMatrix
Can't find what you need? If it's a brand we carry, we are happy to order it in for you.
Medicinal herbs have been used and studied for many years. Plant medicines have been used to create pharmaceutical drugs, for example: white willow tree – salicylic acid – aspirin. The borrowing of plant chemistry to create and patent a drug synthetic is common in the pharmaceutical industry. 
Plants are medicinal. 
Herbal tinctures are liquid alcohol extracts of medicinal herbs. The alcohol used is 40% for extraction. During extraction plant phytochemicals transfer from the plant material into the liquid alcohol, and the medicinal properties of these phytochemicals are preserved. Tinctures are an affordable, and effective way to treat most health problems, and because they are alcohol based they have a long shelf life. Tinctures can be very safe for most patients, however may not be suitable for all. These tinctures can be taken with a little water, and are often a favourite for those that do not like to swallow capsules.
Customized Tinctures: Verdure Wellness Clinic
What makes us different is that our Naturopathic Doctor, Dr. Kristin Spark, compounds customized herbal tincture remedies for her patients – a service that is not found anywhere in KW! Creating a customized medicinal herb tinctures means clients receive an easy to dose liquid plant formulation, that is unique to the individual's health conditions. The choice of herbs used in the formulation can address multiple health concerns (Ie. hormone imbalance and digestion), or they can be focussed on just one problem (menopausal hot flashes).
Customized Teas: Verdure Wellness Clinic
Similarly to tinctures, customized medicinal herb teas are also available to patients, and are often used for sleep, stress, anxiety and digestion, however teas can be used for a wide variety of health conditions. Loose leaf herbal tea is a more palatable option to some who do not enjoy the strong taste of herbal tinctures. Hot water extraction of herbs removes water-soluble phytochemical components, such as volatile essential oils (Peppermint) from the medicinal plants used. Teas are a great option for children and pickier eaters, or those that cannot tolerate capsules or tinctures.
Verdure Wellness Clinic wants to ensure our clients are able to comply with their treatment plan.
From our experience with patient successes we know that compliance depends on finances, habits, motivation, scheduling, diet, health. We find that ultimately when clients feel comfortable and confident successes are seen. Verdure Wellness Clinic encourages clients to be involved in their medical decision making process. 
Please send us any questions you have about our dispensary here:
Book a complimentary consultation